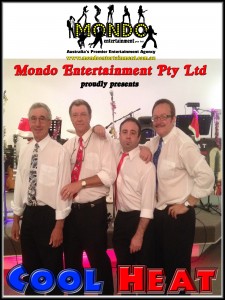 COOL HEAT – COVER BAND
"Cool Heat" can play for a variety of different functions, whether it be a wedding, a Cabaret show, an Outdoor Show…basically wherever good music is required, they can be there.
Always happy to cater to whatever style of music is required, they will give you that personal touch and are happy to discuss your needs and wants so as to make your event everything you'd expect, and more.
Their music styles are varied and influenced by all the great artists you know and love from the 60′s to now, and of course…..Cool Heat can perform in English and Italian !
MELBOURNE BASED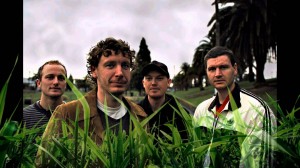 FINE MOTOR SKILLS
Fine motor skills are a Melbourne-based band who have been making a name for themselves in the local pub-rock scene over the last nine years.
Their debut album, Nowhere Special, was launched in July, 2009.
Recorded over a period of 8 months in Ocean Grove, the self-produced record includes guest vocals by Louise McGinlay, and is a mix of vintage sounds and harmonies, Rhodes electric piano, tube amps and finger-picked acoustic guitars. The songs are honest and lyrical, with solid grooves creating a bedrock for the lush, textured instrumentation – and the odd blistering guitar solo for good measure.
MELBOURNE BASED Click Here for further Info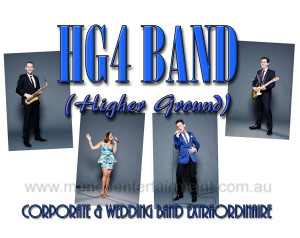 HG4 BAND (HIGHER GROUND)
Fronted by one of Melbourne's most respected vocalist Rocky Loprevite, HG4 can be simply described as a class act. There is no comparison with any other band or group, hence the reason they are well booked up year in year out.
Their professionalism is second to none, and their successful reputation is due to the people who have experienced their talent and performances first hand. Their ability to engage with all types of audiences proves why HG4 are the most sought after function band. Their performances leave people raving and boasting about them every time.
HG4 is the ONLY choice for your function.
Contact: Leo on 0431 000 987 or email info@mondoentertainment.com.au or see more superb artists and bands on our website www.mondoentertainment.com.au
MELBOURNE BASED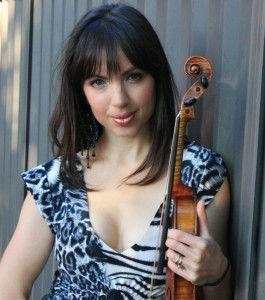 JAZZLAB – SMOOTH, SOPHISTICATED & SIZZLING HOT JAZZ
JazzLab can come from a duo to a 7 piece ensemble, and features the unique combination of smooth vocals, violin & guitar with some of the Country's finest musicians on keys, bass, drums, horns & DJ for the complete entertainment package. Awarded by the Australian Bridal Directory & Bridal Industry Awards, they are in demand performing for premier venues, corporate and private events.
MELBOURNE BASED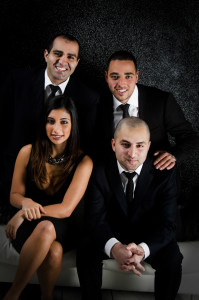 KARIZMA
Their music is the most important thing to them. KARIZMA is not a regular wedding band. They work from a core setlist of high-energy songs to get your guests on the floor and then customize the rest of the set to your taste. Their repertoire is ever-changing and creatively arranged to include music from the past sixty years, right up to today's chart-toppers. Their setlist features great arrangements of soul, pop and rock classics but as professional musicians, they can play any genre of music including, but not limited to, funk, hip hop, r'n'b, rock & roll, disco, blues, jazz, reggae and Italian tunes. They love to have fun on stage and are happy to expand their repertoire to suit your event.
Contact: Leo on 0431 000 987 or email info@mondoentertainment.com.au or see more superb artists and bands on our website www.mondoentertainment.com.au
MELBOURNE BASED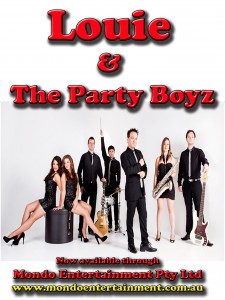 LOUIE & THE PARTY BOYZ
Louie & The Party Boyz' versatility, musical and comic ability and professionalism has received rave reviews. From zooming around on a mini-bike, cooking popcorn, and exploding giant balloons, their crazy antics ensure that whatever the function, wherever the location or venue, Louie & The Party Boyz has the crowd dancing the night away!

MELBOURNE BASED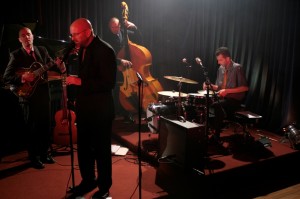 ORLANDO COMBO – JAZZ BAND
Orlando Combo gives you the genuine Jazz experience from one of Melbourne's best working bands. The group believes a good band should add atmosphere to an event without drawing the focus away from proceedings. Corporate clients include BHP, L'Oreal, Ericsson, Ernst and Young, IBM, GE, Pfizer, Accenture and Telstra. In 2001 the group completed a six month contract at the Hotel Sofitel, Vietnam.
MELBOURNE BASED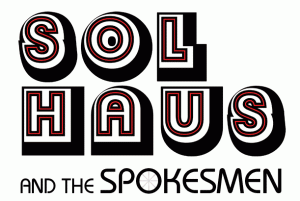 SOL HAUS & THE SPOKESMEN
This eight piece with horns delivers a raucous batch of up-tempo thumping Northern Soul, the most danceable music ever conceived. A bit of rock'n'roll thrown in for good measure to ensure the sets variety and energy is maintained to a very high standard. If you can't dance to this, you don't have feet! We have a great mix of lesser known covers from the likes of Etta James, Ray Charles, Aretha Franklin and much more. These songs are handpicked to ensure the energy never fades, the mix is constantly rising until there isn't a single person who can avoid the lure of the dance floor.
MELBOURNE BASED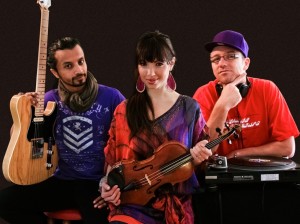 SOUL BEATS – JAZZ, FUNK, & SOUL TRIO
Creative, unique, and deeply funky, this multi talented lineup of professionals use a string of instruments, beats & percussion to create an unforgettable live performance that is sure to please everyone.
MELBOURNE BASED

Copy Protected by
Chetan
s
WP-Copyprotect
.